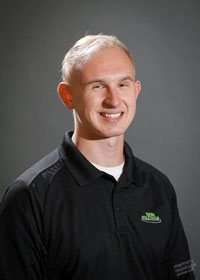 Elite Personal Trainer
• NASM Certified Personal Trainer
• EXOS Performance Specialist
• DotFIT Certified Specialist
• SPRINT™ Instructor
Jamin graduated from West Valley High School in 2014 and shortly after began his journey in fitness. He fell in love with fitness in his early teens after losing over 20 pounds at the age of 15. Since then Fitness and helping others has been a crucial part of his life. He started here at the YAC as an intern and after receiving his NASM Certification began to work as a Trainer in May of 2015. In September of 2015 he started studying EXOS Performance Specialist to be certified to train with athletes and received his Certification in December 2015. His passion for fitness continues to grow as he strives to make everyone he helps better.
"My main focus here at the YAC is YOU! Everyday I'm here is to make you better, and I won't stop until I've gotten you where you want to go."
Getting More People, More Active, More Often!