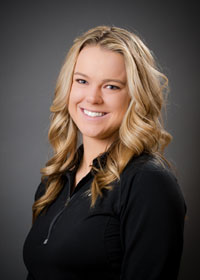 Personal Trainer
• ACE Certified Personal Trainer
• DotFIT Certified Specialist
Megan graduated from Selah High School in 2012, and is currently finishing her Bachelors in Exercise Science at CWU. She grew up in Colorado competing in downhill skiing and basketball. After moving to Yakima she got involved in tennis and cross country racing. Upon employed at the Yakima Athletic Club in 2012 she decided that a life of fitness is what she wanted to pursue, and after seeing amazing results from members in the 2013 Get In Shape competition she decided she wanted to be more directly involved in helping change our members lives.
Megan obtained her certification through the American Council on Exercise and is now a Personal Trainer with a passion to help everyone discover their true potential.
"Fitness is about discovering who you are, gaining confidence and strength. It's not an easy road, but I want to help you reach all of your health and fitness goals!"
Getting More People, More Active, More Often!