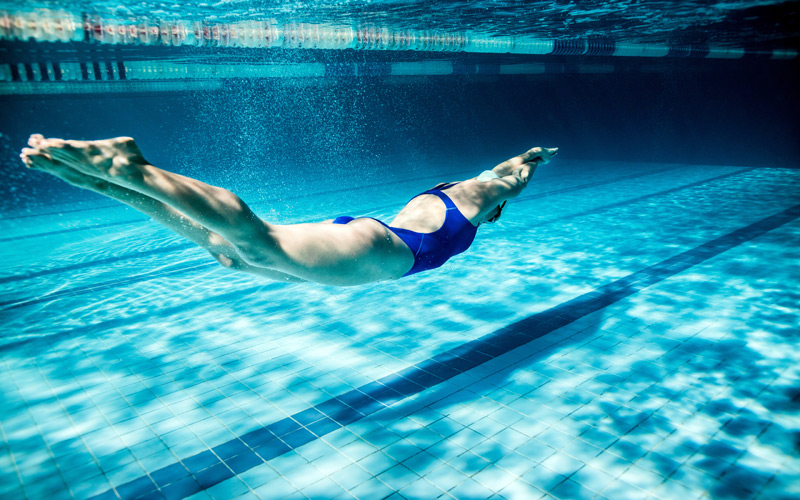 AQUATICS
Yakima Athletic Club has an array of aquatic classes and programs for children and adults. Descriptions and offerings below.
*Pool only memberships available
Youth Group Swim Lessons
See Youth Programs
Adult Group Swim Lessons: Want to hone your stroke to be able to swim longer and stronger? Haven't quite mastered your fear of the water yet? Join in a great class geared to the adult who wants to learn to swim comfortably. Basic stroke technique is taught. Contact Aimee Ozanich, Aquatics Director at 509-453-6521 x208 for more information.
Private Swim Lessons: All of the Yakima Athletic Club's private swim lesson instructors are Red Cross Water Safety Instructor-certified, progressive and responsible instructors. Private lessons allow the instructor to work on specific skills, catering to the individual. . For more information on these programs or to schedule private lessons, contact Aimee Ozanich, Aquatics Director at 509-453-6521 x208
Base Rate: $35 / 30 minutes
Private (members): 6,    30 minute Lessons for $150
Private (non-members): 6,   30 minute Lessons for $180 (includes a $5 per session facility fee)
Semi Private: $210 for 6, 30 minute lessons.
WATER EXERCISE CLASSES
Get fit and have fun with low-impact exercises in our beautiful pool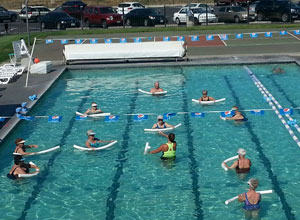 Water Exercise Classes
Aqua Aerobics Saturday: An Instructor's Choice workout- whichever class you get, you will get a great blend of cardiovascular and strength training. One of our more challenging classes, but still appropriate for all fitness levels. A mixed format class so come ready to work out and have fun! (And you still have time to get to BodyFlow after class!)
Aqua Power: Our most active and challenging water fitness class! This 55-minute class is geared toward participants with high level of fitness in mind. A longer, moderate-to-high intensity cardio session, followed by a challenging abdominal and strength training routine. Come ready to work out! (Who said water class was easy?)
Gentle Aqua: This 45-minute class utilizes moves from Tai Chi, Yoga and Pilates as well as water aerobics and provides a gentle workout utilizing the body's core and emphasizing range of motion and balance exercises. A brief cardiovascular training segment is included to the exercisers' tolerance.  This class is designed to be low impact and suitable for all ages and abilities including those recovering from illness or surgery, those with arthritis or other physical challenges.
Stretch and Strength/Aqua Yoga: A gentle, low-impact 45-minute water class using stretching and yoga to achieve a mild cardio workout and an excellent full body stretch. Wonderful for new exercisers or those wishing to work on balance, posture and flexibility.
 Stride and Strength: A gentle, low-impact 45-minute water class using all water walking movements to achieve a mild cardio workout. Equipment may be used for a short time to increase strength. A short abdominal strengthening and stretching section will balance out this workout. A good entry-level class for the new exerciser or the person who needs a low-impact workout.
Swimnastics: A 45-minute class combining low, moderate and high-level exercises and equipment to improve your cardiovascular system, muscular strength, core stability and flexibility. The participant can modify the movements to his or her needs.
Evening Water Class: A 45-minute challenging class designed to increase your strength and power, using equipment and body weight resistance. Appropriate for all fitness levels and modifiable for any participant - come get fit in the water!
Lifeguard Recreational Swim
Washington State Law states: Children 14 years of age or younger, can only use our aquatics facility during Lifeguard Hours. A responsible adult, 18 years of age or older, shall accompany the children and be in the pool or on the pool deck at all times the children use the facility.
When the pool is used by persons from 15 to 17 years of age, at least two people 15 years of age or older must be in the pool or on the pool deck at all times the persons use the aquatics facility. A lifeguard does not have to be present. Persons age 18 and older may use the aquatic facility during business hours. See Aquatics Schedule for available times.
School-Year Lifeguard Hours at Yakima Athletic Club
Tuesday and Thursday: 6:00pm - 8:00pm
Friday: 7:00pm - 8:30pm
Saturday & Sunday: 1:00pm - 4:00pm
Pool Lane Use: Adult swim lap lanes are available throughout the day. When multiple users are in each lane please circle swim so that more than two users can use the pool. Proper etiquette procedures are to enter the lane, wait and talk to the current user, confirm circle swim and start your workout.
Water Safety Instructor (WSI):
Learn to Teach Swim Lessons  
NEXT CLASS: APRIL-JUNE 2020
Open to anyone 16 years or older by conclusion of class. The Red Cross WSI class sponsored by and held at Yakima Athletic Club trains you to teach swimming lessons and other aquatics classes nationwide. This 23-hour class includes both time in the water, instructional time with children, and video segments. Certifications do not expire if you continue to teach and submit class information to the Red Cross. If you are interested in teaching swim classes, this is the program for you! You must be able to swim and attend all class sessions to take this class. For more information or to be put on the interest list, contact Aimee Ozanich, Aquatics Director at 509-453-6521 x208
When: Class Begins April 2020 - Registration opens March 2020.
Cost:  $150 class, $38 Red Cross registration fee, Books: available free online,  OR $40 optional physical book )
Class is 25 hours in length plus online modules.  Attendees certified in the course will be considered for future employment.