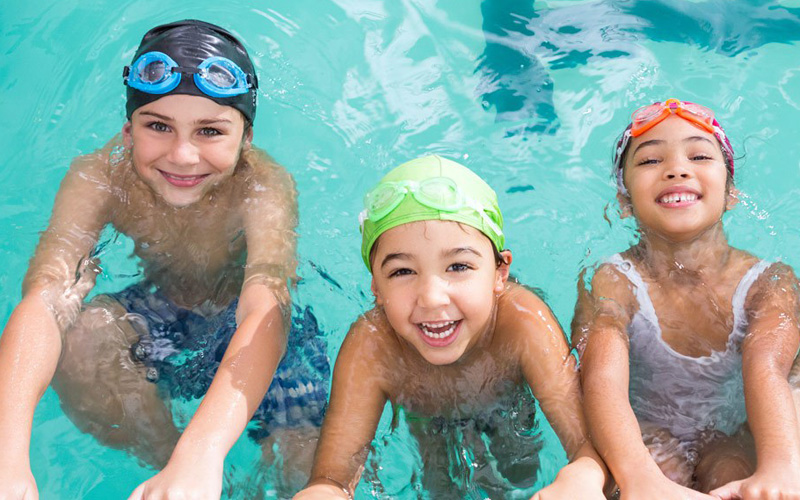 YOUTH GROUP SWIM LESSONS
The Yakima Athletic Club's swim lesson program runs year round with morning classes offered in June and July evening classes offered all year. All of our instructors are certified Red Cross Water Safety Instructors (WSI). We use the Red Cross levels in all our classes from preschool ages on up (3-14). Payment is due at registration.
Registration for Summer 2019 Swim Lessons is open May 13! 
If you would like to speed your registration, fill out registration page and bring it with you when you sign up.  Find our registration page HERE.
Evening Sessions: Tuesday & Thursday for four weeks (8 sessions)
Classes at 6:00pm & 6:30pm - 30 minute sessions for all ages.
PM Session 1: June 4-27
PM Session 2: July 9-Aug. 1
YAC Member: $40 + tax,  Non Member: $46 + tax
Elementary age (6-13 years): 45 minute sessions  Classes at 11:00, 11:45
YAC Member: $59 + tax,  Non Member: $69 + tax
AM Session 1: June 17-21,
AM Session 2: June 24-28
AM Session 1: July 8-12
AM Session 2: July 15-19
AM Session 1: July 22-26
AM Session 2: July 29-Aug. 2
Class Descriptions
Parent, Infant, Child Lessons: Parent Tot swim class is a chance for the parent and child (4 months up to 3 years) to get into the water together in a group setting. This group lesson introduces the child to floating, kicking and becoming familiar with the water in a fun and comfortable environment.  Some sessions are twice a week (8 lessons) and some are once a week (4 lessons).
Preschool Classes 1 - 3: For children ages 3-5 who are ready for formal instruction in a class atmosphere. Preschool classes have no more than 4 students per instructor. Children must be at least 3 and not older than 5.
Level 1 - 5 : Instruction for children (ages 6-13), using Red Cross lesson format (Levels 1-5). Level classes with no more than 5 students per instructor.
Competitive Stroke (Ages 5-18): This class focuses on technique and endurance in the four competitive strokes: butterfly, breaststroke, backstroke, freestyle. Students must have previous experience in all four strokes and be able to swim 15 yards in each stroke to take the class. This class will be 45 minutes and you can choose to attend once, twice, or three times a week. Class is taught by an instructor with competitive swimming and coaching experience. For more information and for prices contact Aimee Ozanich, Aquatics Director 453-6521 ext. 208.
Monday & Wednesday Sessions 5:15-6:00 pm
1 TIME/
WEEK
2 TIMES/
WEEK
3 TIMES/
WEEK
YAC MEMBER
$36
$72
$108
FIT MEMBER
$42
$84
$126
NON MEMBER
$46
$92
$138