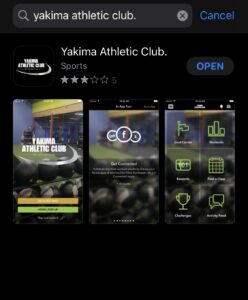 Regardless of your Smart Phone type, you are able to download the YAC App for free!
Having the App allows you access to a plethora of useful information such as:
Class schedules
Your personal account information
Members only competitions
Other connected fitness apps (like your Myzone!)
How to schedule an assessment with a trainer
Your personal goal center
Plus more!
To the right you will see what the Yakima Athletic Club App looks like.
First, download the App.
Secondly, watch the video below on how to setup your ABC account.
Finally, enjoy the YAC App and check it often…special discounts and deals may appear sometime soon!